ACS CTS Decon in Northeast Ohio Provides Suicide and Overdose Cleanup Services
Suicide Cleaning
IF YOU ARE CONSIDERING SUICIDE – PLEASE CALL 9 1 1

OR

 TALK IT OUT WITH SOMEONE BEFORE YOU ACT!
---
Non-Profit Suicide Cleaning
Apartment Suicide Cleaning
Suicide Occurrence Environments
---
ACS CTS Decon Certified Technicians have the experience, training and certification necessary to remediate a Suicide Scene as well an Overdose Scene with compassion, discretion, and professionalism.  ACS CTS Decon is located within Northeast Ohio not some 800 number.
Here at ACS CTS Decon respects and understands the situation you have been thrust into and we respect the occurrence as well as the aftermath.
ACS CTS Decon Technicians are just a call away  – we're ready to assist with the healing.
---

If you are a Family Member, Property Owner, Friend, Associate, Person Responsible or Assigned Person Responsible, for the completion of a Suicide Cleaning, it is important to understand that in order to protect the current and future occupants of a property or location, Bio- Hazardous Materials, which are likely present – MUST be properly addressed.
The risk of serious health issues, caused by in-effective or improper handling of decontamination and cleaning is very, very real. It is important to be aware, that what you do not see may cause as serious health issues as what you do see. For additional information – please view the Bio-Decontamination page of this site.
Our Certified, Experienced, Caring, Discreet, Compassionate, Various Disciplined Trained Technicians, are some of the finest in the Suicide Scene Cleaning Business – it's our job – it's what we do.
Trained at a Federal Level, our Technicians have years of experience in Crime Scene Cleaning and Decontamination, as well as AFTER Remediation Cleaning and Janitorial Requirements.
Your insurance policy may cover the expense of cleaning a Suicide Scene – why risk your health and well being?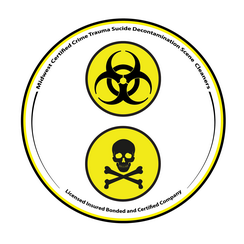 You have questions? We have answers!

 
Call ACS CTS Decon – Now: 
216-472-3458 (Ohio) / 877.634.1434 (Toll Free)
---

---
A Division of Area Cleaning Service LLC
30200 Detroit Road
Westlake, Ohio 44145
Telephone 1: 216.472.3458 (Ohio)
Telephone 2: 877.634.1434 (Toll Free)
---
American Owned & Operated